Hi ! My name is Celine. I'm a multidisciplinary designer with a passion for AI and cognitive science.

My resume can be found here. For confidential reasons, I cannot share most of my work online. If you'd like to see a portfolio with my most recent use cases or get in touch, please email me.
I'd like to show you my design process. Scroll down to see more!

My process
The Discovery phase is all about gaining insights through contextual inquiry. It is crucial to understand and frame the problem accordingly. If the pinned problem is wrong, then so will be the designed product or service.
Research, Defining & Communicating
The research phase usually kicks off with exploratory desk research, followed by field research where I use different ethnographic tools such as interviews, focus group activities, shadowing, card sorting, diary study or co-design workshops to collect data on chosen end-users and/or experts.
General and/or behavioural patterns are translated into design artefacts such as personas, user journey, various blueprints and mappings.
All this research allows me to identify the problem and present the analysis to the relevant team to carry on.
In the Delivery phase, we will validate and develop the MVP. Here we are ideating, building, measuring and learning to bring the best user experience in a short time, at a smaller cost. If we start to develop an MVP without verifying its relevancy, then the designed product or service might be bound to fail.
Ideating & Developing Hypothesis
Using the designed artefacts to communicate my findings, I run design sprints or ideation workshops. It helps the whole team or decision-makers being in line with the current context and the problem that we want to solve.
Ideally, we end up with design principles and mock-ups that translate these principles into tangible bits of experiences or touchpoints.
When applicable, I use behavioural change's theories to nudge the user into positive choices. To do so I apply behavioural design frameworks.
Measuring Usability
I validate the designed concept and measure the experience through usability tests and heuristic analysis. I will keep on iterating until we reach the sweet spot: a great experience.
I also create UX metrics around goals that follow the company's KPIs. Depending on what is to be measured, I use quantitative and/or qualitative methods to capture the metrics.
Case Study: Royal Bank of Scotland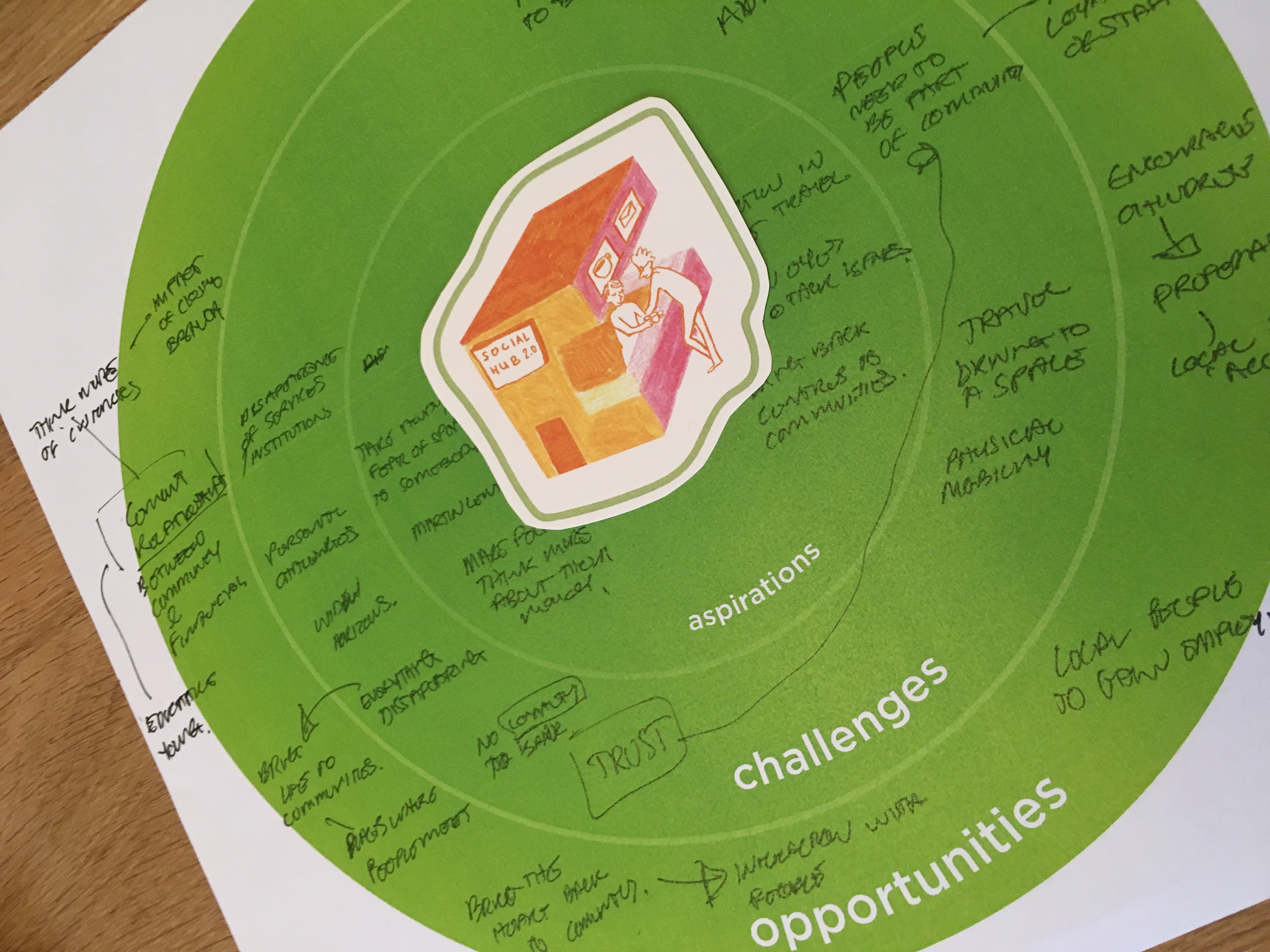 Design Strategy, Design Research, Futures-driven Design.

This project explored future experiences around financial health involving data and healthcare. The objective was to analyse the values of current customers and translate their existing behaviours into emerging forms of future customer experiences appropriate to the context of the UK in 2028.
Tools & Methods used
Interviews; Mind Palace; Engagement Artefact; Profile Development; Storytelling; Research Cards.
Explorative Research
We explored themes in regards to Finances, such 'Politics', 'Health', 'Education'. Our collective knowledge resulted from all our desk research, field research and literature review.
I carried field research and interviews, then translated findings into Research Cards.

The knowledge being consequent, we had to make sure the acquired individual knowledge was well-shared within the team using both physical and digital resources.





Making the Future World Tangible
To communicate our findings, we created a future world and a set of future personas who were interacting with the bank of the future.

I was the designer in charge of the creation of the world and its three strategic landscapes.

This tangible world gave the client design opportunities for future services. Having co-design workshops helped us pinpoint current worries about data the participants had, and so we refined the bank's future touchpoints accordingly.




Outcomes
We suggested our client a methodology to develop future-based scenarios that would inform the company's strategic shift from transactional to experiential financial services.
Design Research, Design Strategy.

In order to provide relevant counselling, the Korean Design Agency Right Brain aims at perceiving trends happening in the AI and tech scenery. This knowledge is then applied when working together with the client.

Tools & Methods used Focus Group Discussion; Explorative Workshop; Desk Research; Card Sorting; Clustering.


Understanding the Current Scene
We kickstarted with an in-depth desk research on what has been happening in the past six months. Products, services and tech were then clustered to see the emergence of trends. Following that we extracted megatrends and insights.

Leveraging Knowledge
We compiled those megatrends and insights into a trend report that was for both public and industrial use.
This knowledge was then applied when working with two of the most renowned electronics companies in Korea. For example, we gave design principles in what could be a new IoT, we created a typology of robot personalities depending on the function intended and the user's attitude.

What I Did
My responsibilities lied in the findings of trends, and the analysis of trends into megatrends.
I looked at popular projects from crowdfunding platforms and recent articles of design and tech magazines. I also examined novel tech products from multinationals, as well as providing field research in Japan.
The cluster and the classification of trends led to the creation of megatrends.

I structured and narrated a few megatrends, how they would soon impact the society, and possible subsequent evolution of these megatrends.

When providing consultancy or workshops, my role was to conduct the research sessions.
As I was aware of the data scenery and the possibilities of AI, I was in a good position for designing together with the client and providing accurate user research activities.