Konstfack University College of Arts, Crafts and Design.
Stockholm, Sweden.
Teamwork: In pairs with Caroline Moureaux-Néry.
Duration: 8 weeks.
Södersjukhuset's website

Södersjukhuset is the second most important emergency hospital in Stockholm. Every day the medical staff receives 300 to 400 patients in the emergency room, for a total of 30 nurses.
(brief) We were asked to create design proposals that meet both the medical staff's needs to carry out their work effectively, and the patients' need to feel safe and not neglected.

Through her journey, Erika will come across different artefacts: artefacts that will give her information about her journey, and artefacts that will soothe her anxiety.




Process
I spent 2 days at the hospital shadowing the nurses at their work and conducted interviews with the medical staff. We also collected data on how the patients previously experienced the ER through an online survey and interviews.




Defining our problematic
We turned these quantitative and qualitative data into distilled visual insights; ee made a user journey map combining both the testimonies, perceptions and feelings of the nurses (yellow) and the patients (green). We chose to work on the Psychological Comfort of the patient, and the factors that influence it like the physical comfort, the sickness, and the hours you have to wait.
These insights became the foundation of our project.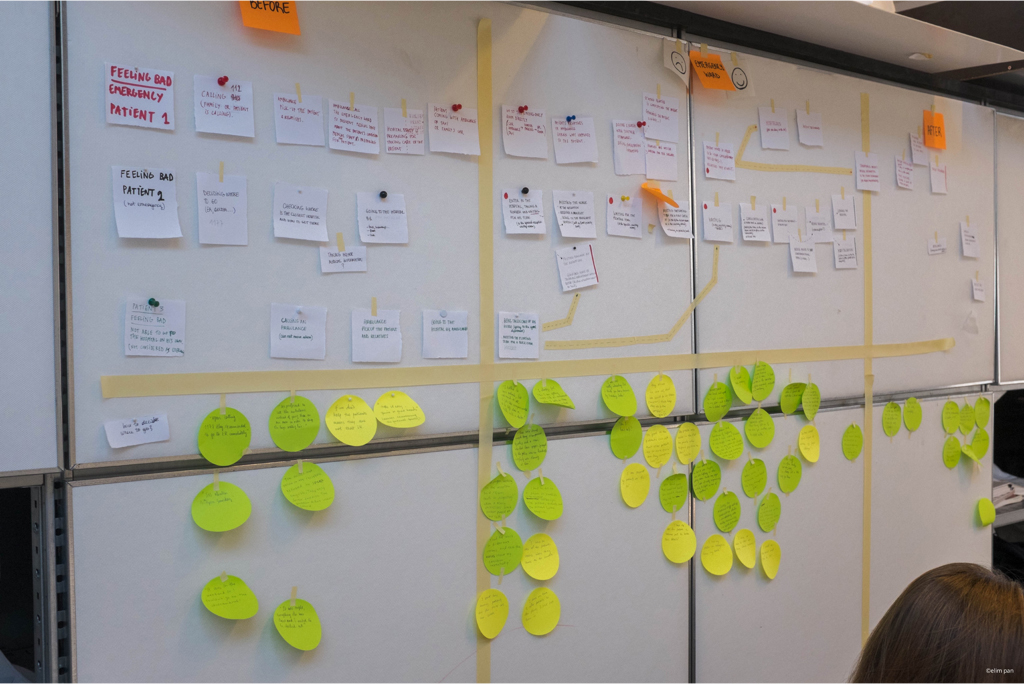 Brainstorming and prototyping
During our brainstorming sessions we generated a considerate amount of ideas. Then we selected a couple of these ideas and matched them to specific emotional moments in our personas' journey: this became our key path scenario. We created 2 scenarios based on these 2 personas; Erika, a woman not very used to the hospital environment and very anxious; and Janusz, a man used to the hospital procedure and quite calm.
5 of our ideas were prototyped and user-tested then iterated again, to be finally shown to the nurses and the medical staff of the hospital in an experience-fashion exhibition (see video).